Experience the region's culture and nature on your taste buds. Feed the adventurous spirit and explore the exquisite flavors of traditional Lao cooking, or satisfy your palate in the comfort of your international favorites. At Nam Kat Yorla Pa, the majority of the ingredients are sourced locally, including some singing-fresh herbs and vegetables from the sanctuary's organic garden, harvested for the table.
Your introductory journey into the Lao cuisine starts with its base flavors: Umami, created by Padaek, a strong fermented fish sauce; Smoked, as almost everything is grilled on charcoal; and Vibrant, animated by an assortment of chilies and herbs such as lemongrass, mint and more. Then, you have the staple of any quintessential Lao meal: Laab, a richly spiced meat salad with fresh herbs, served with sticky rice. Let the sanctuary's kitchen take you even further as it pays homage to the country's rich culinary heritage.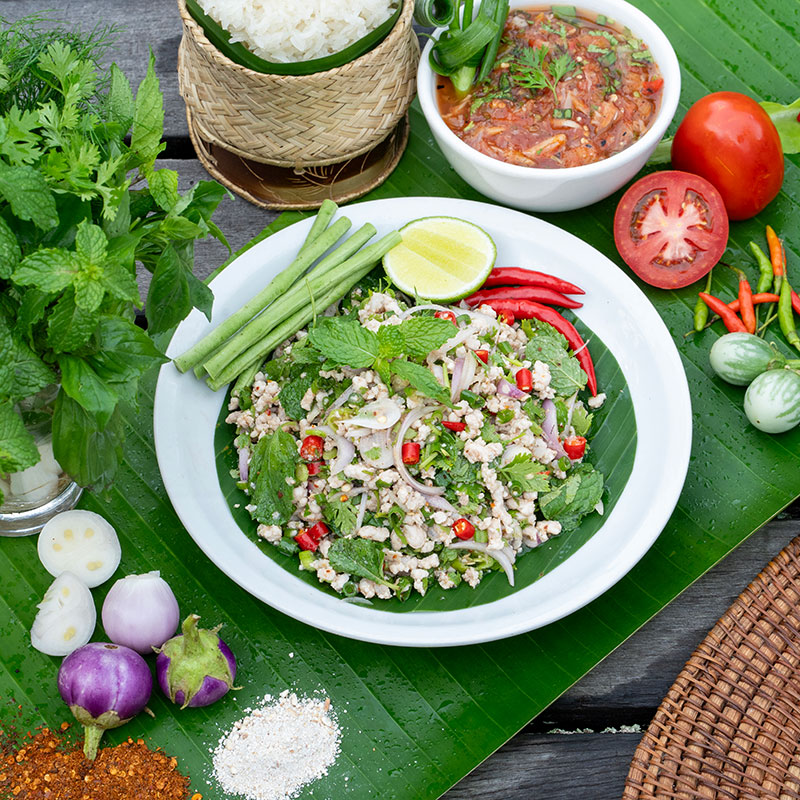 Essentials for
a full life
As they always say: life is short, and it's the Lao way of life to indulge in a libation to live it fully. Settle into a comfy sofa, nestled in lush greenery, watch the waters flow by, take a gulp of fresh air, then a sip of something cold. What's your pleasure? The bar at Nam Kat Yorla Pa has a menu of wines, beers and cocktails to quench your thirst.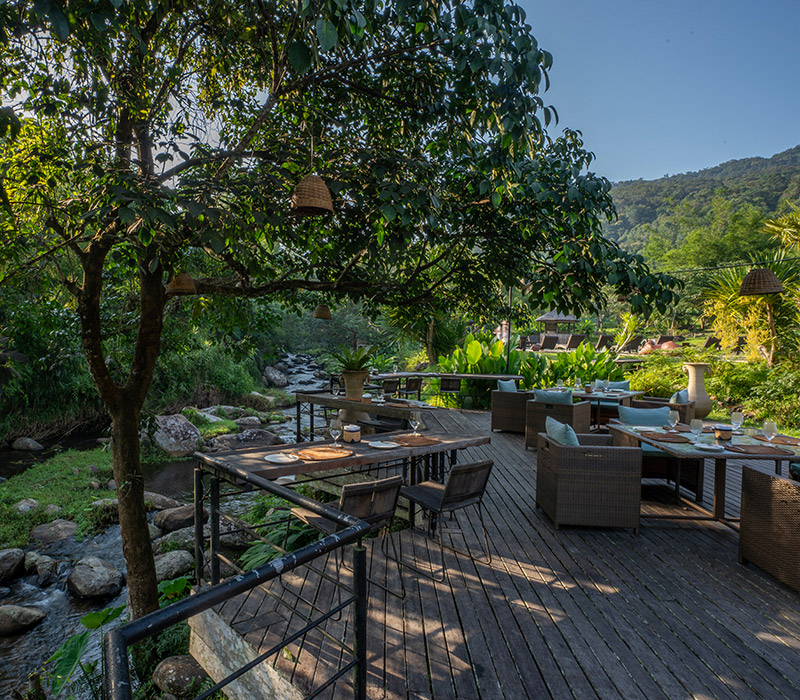 Start your morning afresh with a buffet breakfast on the River Terrace. Feel ready to conquer the day with delicious selections and your beautiful natural surrounds sending positive vibes your way. Take a midday break with a hearty lunch in the tropical sun, set against the rustling and chirping of a thriving rainforest. Complete your day with a wonderful dinner under the moonlit sky, while listening to the hypnotic sounds of the river rippling by. During wintry months, a massive bonfire pit builds a cozy atmosphere, and the occasional BBQ sessions add a dash of rustic fun.
Why not add a little more adrenaline to your culinary journey? Savor dishes out of the norm of the typical Lao cuisine and specific to the northern region. Two unique delicacies to start with: Or Lam and Jaew Ma Khaen. The first is a mildly spicy, slightly tongue numbing meat stew originating from Luang Prabang, composed of a festival of ingredients like the iconic Sakhaan, chili wood specific to Northern Laos. The latter is a spicy, smoky sauce from the Khmu ethnic people, to be enjoyed with steamed vegetables and sticky rice.
So far, your taste buds have been intrigued and indulged in an unparalleled ambiance. There is always more to experience at Nam Kat Yorla Pa, so extend your culinary journey with these unforgettable activities.
SUNSET DRINKS AT
KHMU VILLAGE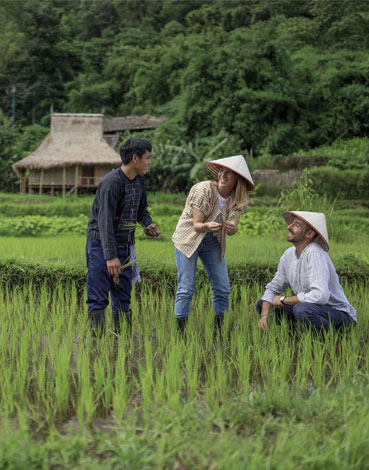 PICNIC LUNCH AT
NAM KAT WATERFALL