The protected rainforest surrounding Nam Kat Yorla Pa is a force to be reckoned with, where nature is left to flourish. Embrace this breathtaking eco-tourism destination in its pure form with a range of experiences to choose from. Is leisurely exploration more your speed or are you looking for next-level adventure? Your adventure guide will be with you every step of the way.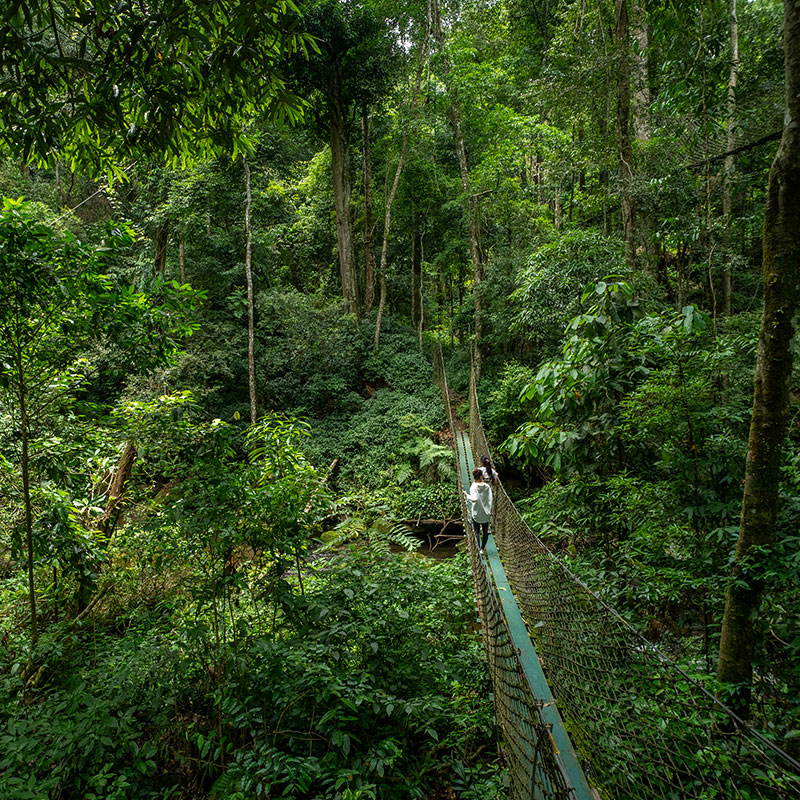 Walk the aerial netted suspension bridges through lush vegetation and over rivers and streams. Depending on the route, traverse a series of 15 to 20 bridges, all leading you towards the beautiful Nam Kat waterfall. Although wobbly for a bit of rustic thrill, the bridges are not too far above ground so the faint-hearted can also join in the wonder of experiencing the rainforest from this unique angle.
Clip into a double cable for extra safety, then take off! Glide past trees, waterfalls, cliffs, and over rivers and streams. Why walk back from your visit of the Nam Kat waterfall when you can fly back? Only 11 ziplines, ranging from 30m to 300m, to triumph over. Or live out your forest dream glamping in a treehouse. The catch? The only way in or out is by ziplining across the cascading Huay Soum waterfall.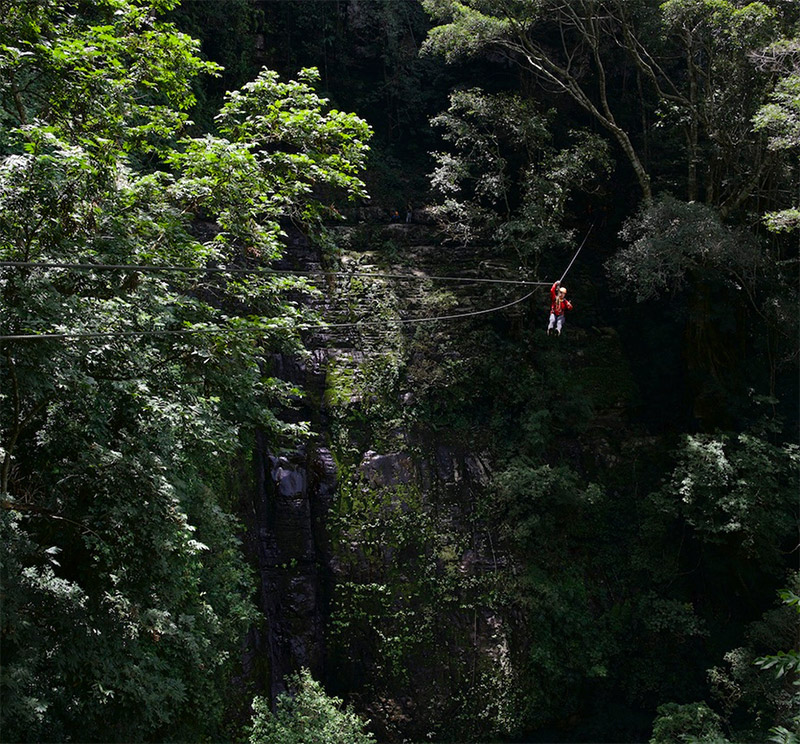 Still chasing after that buzz of adrenaline? Rappel down a waterfall. The refreshing and powerful feeling of the water, the intense roaring in your ears, and the sheer sensation of hanging on by a rope against a slippery rock face. Get a taste for abseiling with a 15m descent along the Nam Kat waterfall or take it to the next level by rappelling down a staggering 45m height of the Huay Soum waterfall. Prior experience not necessary but good physical condition ideal. The experience is seasonal from April to October and dependent upon the weather.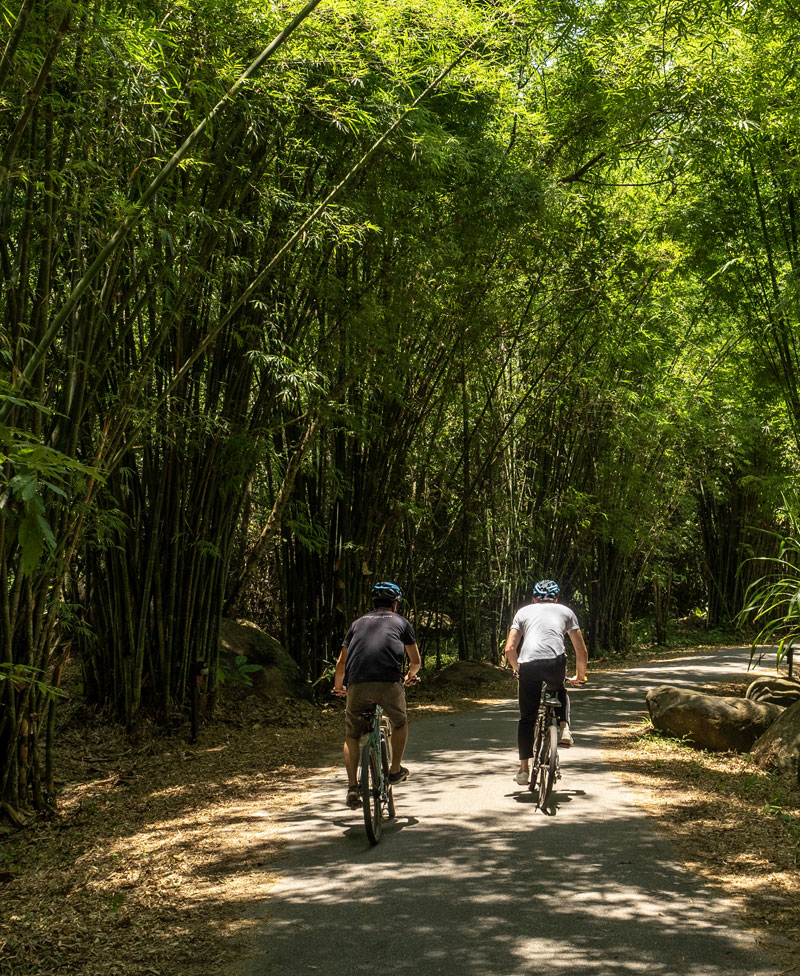 Hop on a mountain bike for a fantastic way to tour the nature reserve. Whether you are looking for scenic trails in stunning
greenery and along the river, leisurely pedals to a Khmu village, or more arduous runs on jungle tracks and through bamboo
forests, there are a multitude of cycling opportunities for riders of all skill levels.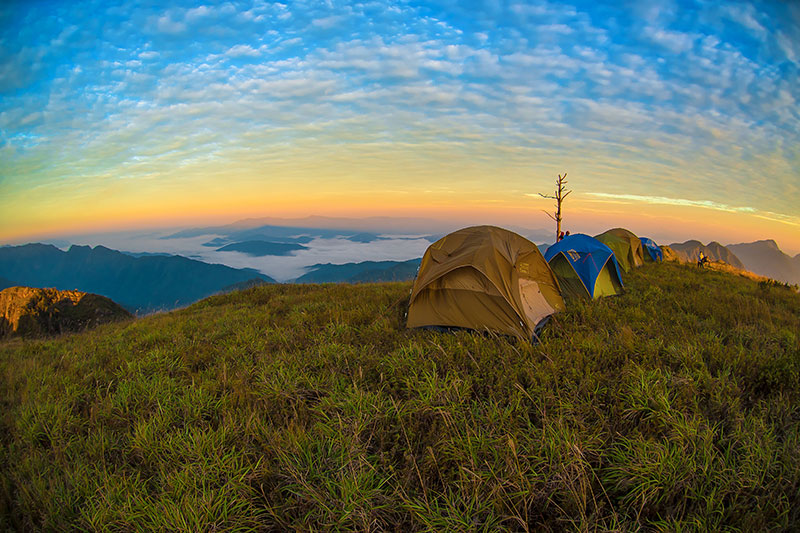 Take your experience to new heights with a hardcore trekking expedition up the Phu Ya Kha and Phu Pa Hin mountains, past dense forests, swaying fields, and along ridges. Spend overnight at the summits, and wake up to unparalleled views with the occasional sea of clouds. Your adventure guides double as your butlers and chefs for a pampered camping experience. For a less strenuous mountain excursion, take a trip to Phu Toh Hin mountain for a day of light trekking, panoramas, and some fun on the V shape canopy walk where you have a tightrope for a bridge.
Acres of jungle landscape right at your doorstep to explore at your own pace. Follow trails leading you to towering bamboo arches of deep forest green, across meandering streams, towards cooling waterfalls, and stumble upon giant trees that have endured the ages. Slogging through an array of shrubbery and marveling at the dense canopy above, equally humming with forest creatures, find yourself fully immersed in nature.
Forest Adventures
of A Lifetime